The provincial government is injecting more than $780,000 into Timmins businesses and Northern College.
Ontario Minister of Economic Development, Job Creation and Trade Vic Fedeli was at The Bucket Shop today to make the announcement on behalf of Minister of Energy, Northern Development and mines Greg Rickford.
Four companies are getting cash from the Northern Ontario Heritage Fund Corporation (NOHFC).
The largest investment is $500,000 for The Bucket Shop.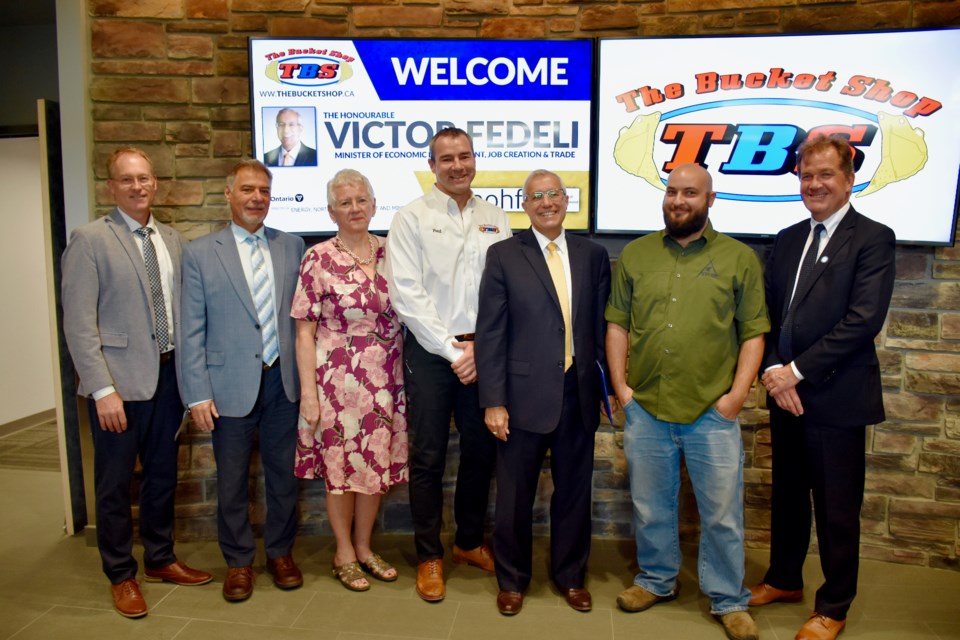 Market development manager Jamieson Pouw explained the cash is helping them commercialize three new mining products.
The initiative started about three years ago and has created eight new jobs.
He said the products have all been tested in the area.
"Northern Ontario's got some of the hardest rock mining in the world so we were quite confident if we could make it work here successfully it would literally work anywhere in the world. That's exactly what happened. We had local mines actually acting as referrals for us, suggesting that we start shipping this to their mine sites throughout the rest of the world and that's how we got into Ghana, West Africa. One of the local mines said this works so well here, we'd like to try it over there," said Pouw.
Conveyors Plus Ltd. is receiving $52,000 from the NOHFC.
The other recipients are $28,813 for Sewn Home to establish an industrial sewing and manufacturing operation for canvas products, and $8,313 for Philip Barton to create a company to develop custom mobile applications and hosting services for business.
Northern College's funding is through the Ontario Research Fund.
It's receiving $191,466 for the Mining Centric Research Innovation Hub to help conduct mining-focused research.
Fedeli said today's announcement helps show Northern Ontario is open for business and open for jobs.
"This is really important to continue to show all of Ontario that Northern Ontario is part of the open for business, open for jobs approach. We need the companies to continue to grow, continue to invest, continue to spend their capital here to show the rest of Ontario that there are great jobs here," he said.
Source: Timmins Today