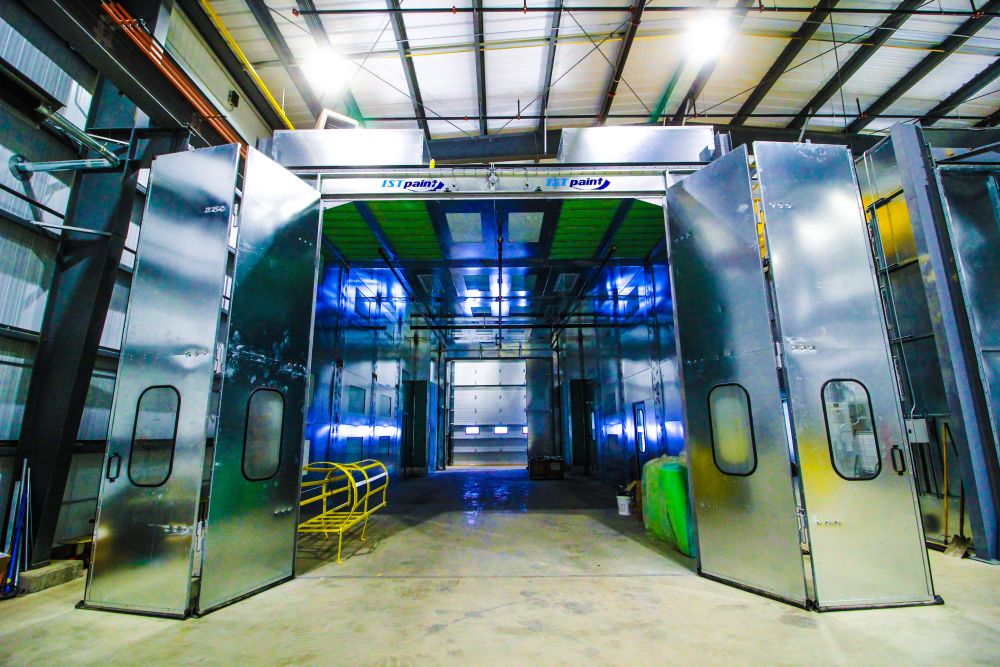 In 2020, we commissioned our state-of-the-art surface preparation and finishing facility. Hosted in a single 10,000 square foot pre-engineered steel structure, we have one abrasive blasting booth and two industrial paint booths. Each booth measures 20' wide by 45' long and has a height of 16'. In partnership with Canadian-based International Surface Technologies (IST), they assisted with the design and implementation of our modernized and process-centric surface preparation and finishing environment. Since 1978, IST has built its reputation on designing and manufacturing reliable, robust equipment that stands up to the rigours of harsh industrial environments. We also maintain access to our original sandblast building and paint booth if required.
Our Abrasive Blast Booth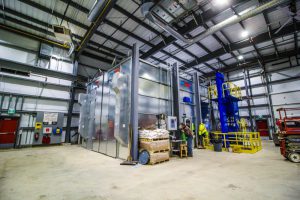 We designed our facility in accordance with the latest Environmental standards that measure limits for noise, dust, vibration, effluents, and overall carbon footprint. To this end, the abrasive blast room incorporates a recovery system that repatriates ~95% of the blast media. We utilize a steel shot media that is collected through the recovery system with screw conveyor and magnets, cleaned, and reused multiple times. This offers significantly reduced waste compared to traditional sandblasting environment with single-use media that must be disposed of. Additionally, the time to prepare a surface versus sandblasting is improved by 200%. For example, a large loader bucket that takes 3 hours to sandblast, takes 1 hour to complete with the new abrasive media. Other types of abrasive blast media include aluminum oxide, coal slag, glass beads, nutshells, and garnet.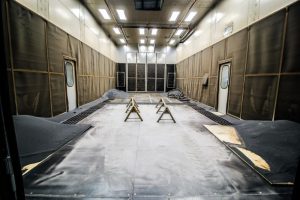 Abrasive Blasting is a process that requires precision and reproducibility. Therefore, the equipment designed to accomplish such a task must be properly maintained and calibrated. The blasting process is handled manually with versatile equipment that can be used for various applications. Therefore, some basic process parameters must be set carefully to achieve desirable results. With the design guidance of IST, we incorporated six prominent factors in the process parameters: abrasive media, blast nozzle, media velocity, quality of air from the compressor, operator technique, and equipment maintenance.
PHOTO GALLERY