The Bucket Shop in Timmins is embarking on a $10-million expansion, which will include state-of-the-art equipment in ventilation, fume extraction, cutting, and bending.
The Bucket Shop is all tapped out.Its 26,000-square-foot shop in the west end of Timmins, where the company manufactures and refurbishes equipment buckets for surface and underground mining, has no more room for office space, phone or Internet lines, bay space, or electrical capacity."We've really surpassed the building's ability to house our day-to-day business, and we're currently running double shifts," said general manager Paul Woodward. "We're working 20 hours a day as it is now, and there's just not enough time or space in the day to get the work done."But that's changing. The Bucket Shop is currently undergoing a $10-million expansion, which involves the construction of a brand-new facility that's expected to be complete and operational by Christmas.Expansion of The Bucket Shop's facilities has been on its to-do list for some time. On three previous occasions, the company had planned upgrades, but a dip in the economy gave them pause each time."This time around, there's definitely no turning back," Woodward said. "We're definitely committed, based on what you can see there."What you can see taking shape, just off the main highway through town, is a 65,000-square-foot steel structure that will eventually become The Bucket Shop's fourth and final iteration, according to Woodward.This marks the third expansion for the company since its inception in 1990. Woodward said the new space will include state-of-the-art technology in ventilation, fume extraction, cutting, and bending."We've really modernized the way that people look at doing buckets," he said.A centrepiece of the new facility will be heavy bay, equipped with a 70-tonne overhead crane, which will be one of the largest overhead cranes in the region. It's currently designed to cater specifically to specialty work for the mining industry.But that's not to say that The Bucket Shop isn't open to reaching out to new clientele or markets."When you create a facility like we are, it's hard to say what work may follow, and when industry catches on that this kind of a facility is at their disposal in the North, it's hard to say where it may go," Woodward said.The company used to have to go "banging on doors" to sell its products to clients, but a track record of good work and word-of-mouth referrals now mean that clients are coming to them, Woodward said.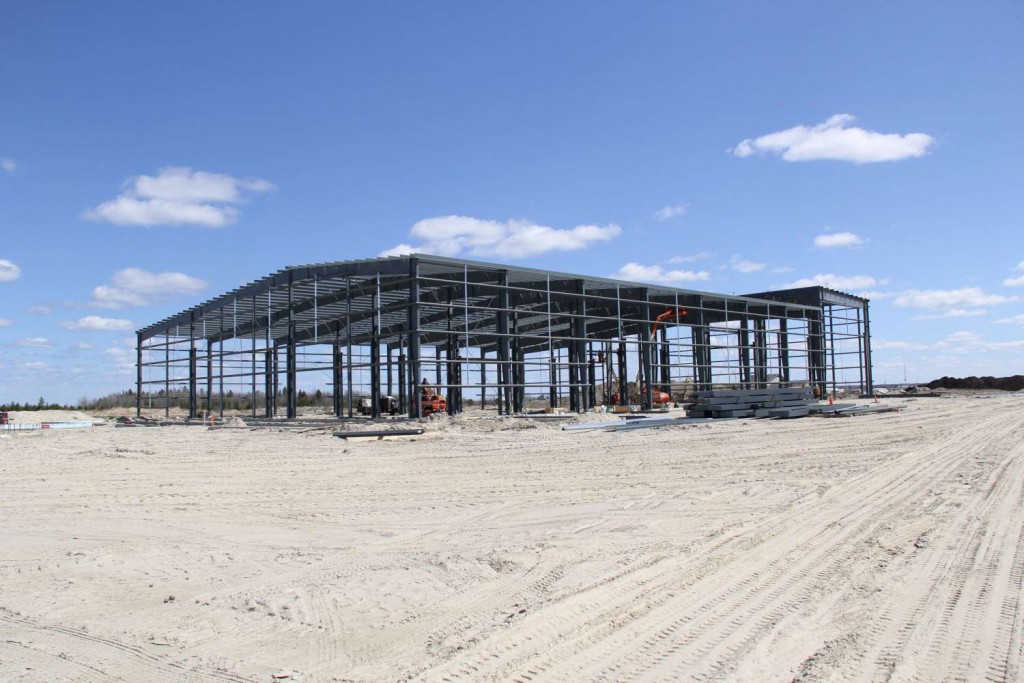 The Bucket Shop has remained steadily busy through the most recent industry downturn, and with activity only set to increase with the ramp-up of mining projects in the region by IAMGOLD, Goldcorp and Detour Lake, Woodward doesn't anticipate their order book to clear any time soon.He credits innovation, particularly in extending product life, for the growth in awareness about The Bucket Shop and its offerings.The most recent innovation is the HiPER line of castings that Woodward said extends the lifecycles of critical wear components on its GET (ground-engaging tools) line of products."We've taken a design that's 20 years old and we've reworked it to incorporate some new technology in abrasive-resistant materials, and we've been successful underground and on surface at providing customers four times the life of what they've been seeing since the beginning of time," Woodward said. "So we're really, really excited about that."The company has been making the rounds of the trade show circuit with its new products, first at the Canadian Mining Expo in Timmins in June, and next at MINExpo in Las Vegas in September.As work slowly progresses on the new shop, Woodward's dad and president of the company, Ross Woodward, remains at site overseeing the project, while Paul is back at the old facility managing the day-to-day operations.
The foundation work was complete last year, which allowed the construction crew to avoid the mucky, muddy spring conditions and get to work early this spring.
"That work completed last year really allowed us to get going here very early here," Woodward said. "Mid-April the snow was off and we were erecting steel, so it's allowed us to fast-track to be in the building for December; without that start last year it would have never have happened."
The Bucket Shop currently employs close to 100 employees, but the expansion will necessitate bringing on between 20 and 30 new hires, Woodward said.