TIMMINS – 
Paul Woodward took home the President's Award at Thursday night's NOVA awards.
"There really are no words that can describe how proud we are as a family. I could almost cry," said Woodward, owner of The Bucket Shop.
"It's all about our team and our people, and we couldn't have done it without them," he said.
Woodward is optimistic about the city's economy.
"We believe in Timmins and it's a great place to be doing business," he said. "We reinvest in the community because we believe in the economy, we believe in the community and I think there's good things to come for Timmins as a whole."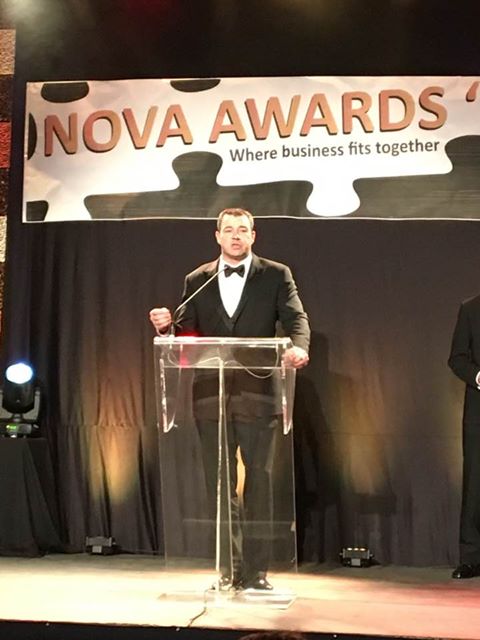 Woodward said embracing change and staying positive are essential. His business will undergo some change in the coming months as it moves into a 65,000 square foot facility.
Woodward was among 16 winners at the Timmins Chamber of Commerce NOVA Awards, held in the McIntyre Community Complex on Thursday evening.
Host Art Pultz noted that 17 of the finalists were young professionals.
"We have sold this event out. There's over 700 of you here, making this the largest business awards celebration in Northern Ontario," Pultz told the crowd.
Mascioli Construction won the OPG Lifetime Business Achievement Award, leaving owner Phil Mascioli stunned.
"We've gone from building all the roads in Timmins, and sewer and water, and now we're into brick sales and landscaping products," he said.
As for what lies ahead?
"Another 100 years of building in Timmins."
The two-year-old Timmins Festivals and Events Committee won the City of Timmins Non-Profit Organization Award. Chair John Olaveson said he was humbled.
"We're ecstatic to get an award this early in our career," he said. "We've got some big announcements to make soon regarding Rock on the River the 28th and 29th of July. I think people are going to be pretty impressed what year two brings to Timmins."
Olaveson provided one more hint:
"Because of funding for Celebrate Ontario and Ontario 150, it's going to have an Ontario theme to it, so that's about as much info as I can give you."
He said he and the committee have been "working hard to bring something that's been really missing in Timmins…we've been deprived of music for so long."
CreeQuest took home the De Beers Canada Indigenous Partnership Award. The Cochrane-based company provides hospitality services to Northern Ontario's remote camps.
Tina Gagnon, president and CEO, said, "It means I can bring this (award) back to my community and show that as Indigenous people, we don't always rely on our chief and council to make a difference in the community. You as an individual can make a big impact, by working hard, and chasing after your goals."
Gagnon said she will be traveling to New Brunswick soon, as part of plans to grow the company across the country.
Katelyn Malo of Black Spruce Gallery and Framing won the Collège Boréal Young Professional Award.
"I'm so proud to have a business in this wonderful community," Malo said.
Alicia Pirie, owner of Chic Baby & Kids and winner of the Northern College Service Excellence Award, said, "We need to work together to keep Timmins moving…We need to empower one another, not compete with one another."
Other winners included:
DJB Mining Products & Services Ltd. – Kidd Operations Business of the Year Award (11+ employees)
Rainville Health – Scotiabank Business of the Year Award (6-10 employees)
Timmins Gracie Jiu-Jitsu and Muay Thai Academy – TD Bank Group Business of the Year Award (1-5 employees)
The Working Class – Caisse populaire de Timmins New Business Award
NORMAP – PIC Productivity, Innovation & Diversification Award
Radical Gardens – RBC Marketing Award
Family Eye Care – FNETB Best Place to Work Award
Fountain Tire – NorthernTel Business Contribution to the Community Award (11+ employees)
Northern Windows & Doors – The Venture Centre Business Contribution to the Community Award (6-10 employees)
Tree Bandit – BMT Insurance & Financial Services Business Contribution to the Community Award (1-5 employees)
Source: The Timmins Daily Press
http://www.timminspress.com/2017/05/12/nova-award-winners-react-to-recognition